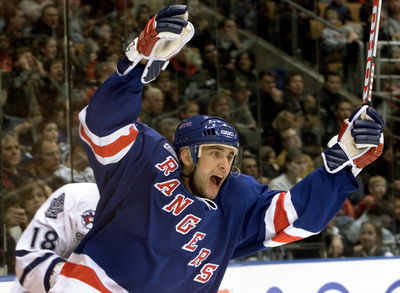 Right Wing

Shoots: Right

Height: 6'1"

Weight: 200

Born: March 9, 1977
Tabor, Czechoslovakia

Off-Season Home: Czech Republic

Info: (From Rangers home page and New York Rangers 2000-2001 Media Guide)

International Career:

Tallied 64 goals and 69 assists for 133 points in 73 career matches with Budejovice of the Czech Republic League Was captain of Czech 77 team (European Jr. Tournament), notching four goals and three assists for seven points in five games Represented the Czech Republic at the 1995 World Junior Championships in Alberta Led Czech Republic to championship in Four Nations Tournament, an event that featured teams from Finland, Sweden, and Russia Had two goals and six assists in three games and was nominated as best player in the tournament.

NHL Career:

Has appeared 347 career NHL games, registering 73 goals and 105 assists for 178 points, along with 122 penalty minutes. 1995-96: Led all Panthers rookies in goals (13), assists (14) and points (27) Tied Edmontons Miroslav Satan among NHL rookies with four game-winning goals Tied for 11th among league rookies with 13 goals and tied for 13th among NHL rookies with 27 points Made his NHL debut on October 7 at New Jersey Recorded his first NHL point with an assist on October 11 vs. Montreal Posted a five-game point streak from November 2 to November 9, notching six goals and one assist for seven points Tallied goals in four consecutive contests from November 2 to November 7, beginning with his first career NHL tally on November 2 vs. Philadelphia (Dominic Roussel) Was one of only four 1995 first round draft choices to spend the entire season in the NHL (Chad Kilger Anaheim, Winnipeg; Shane Doan Winnipeg; and Kyle McLaren - Boston) Appeared in 16 of 22 playoff games, netting one goal and three assists Tallied his first career NHL playoff goal in Game 3 of the Eastern Conference Finals vs. Pittsburgh on May 24. 1996-1997: Ranked fourth on Florida with 18 goals, placed ninth on the club with 21 assists and fifth with 39 points Registered an eight-game point streak from November 7 to November 22, collecting eight points (four goals, four assists) over the span Recorded a pair of four-game point streaks from December 11 to December 20 and March 13 to March 19 Skated in his 100th NHL game on December 5 vs. the Islanders Notched career-high three assists on March 13 vs. Vancouver. 1997-98: Tied for sixth on the Panthers with 18 goals, tied for fourth with on the club with 24 assists and ranked fifth on the team with 36 points Suffered a broken left wrist on October 30 vs. Ottawa Missed 15 contests before returning on December 15 at Washington Tallied his first two goals of the season on December 12 at the Rangers Both goals were first period shorthanded goals Set Panthers record for most shorthanded goals in a period and tied Tom Fitzgeralds team mark for most shorthanded goals in a game Tied his career high with three-points (two goals, one assist) in 6-2 win at Long Island on December 27 Skated in his 200th NHL game on March 11 at Ottawa Posted a four game-point streak from March 23 to March 29 (one goal, four assists) and posted a five-game point streak from April 11 to April 18 (two goals, five assists) Notched his 100th career NHL point on April 16 vs. Philadelphia Tallied 11 goals and 11 assists for 22 points in 37 road games. 1998-99: Recorded career highs in goals (19) and points (43) and tied his previous high in assists (24), while skating in all 82 games with Florida Led team in shorthanded goals with four and ranked second among club forwards in with a plus seven rating Was one of only three Panthers to appear in all 82 games Ranked third on the team with 182 shots on goal Tallied 22 points (eight goals, 14 assists) in 41 home matches and 21 points (11 goals, 10 assists) in 41 road contests Recorded a season-high four-game point streak (from April 10 to April 17, collecting one goal and three assists for four points over the span Notched a pair of goals, including one shorthanded tally, on December 30 at Pittsburgh Played in his 300th NHL game on April 14 vs. Montreal.